National Anger Management Association to Meet at the National Press Club, Washington DC – "Future of Anger Management, Domestic Violence and Crisis Intervention"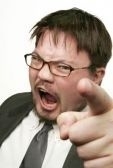 Washington, DC, March 06, 2018 –(PR.com)– Online registration is available for the 2018 National Anger Management Association International Conference April 5th and 6th.
Experts from the fields of anger management, domestic violence and crisis intervention will share their cutting-edge data and insight into recent dramatic cultural shifts. The conference registration list includes legislators, journalists, academics, clinicians and researchers.
"The 2018 NAMA International Conference features the most outstanding speakers on topics that will both inspire and inform on the future and evolution of culture," says Dr. Rich Pfeiffer, president of the National Anger Management Association (NAMA). "As the pre-eminent international association for anger management professionals, NAMA believes in fostering a climate of innovation and inclusion when addressing the challenge of anger and violence."
More than a dozen presentations over the course of the two-day event will cover topics ranging from effective treatment strategies to practical solutions for managing anger in a variety of environments. Specific presentations include a look at "Yield Theory" with Dr. Christian Conte; "Research Review of Anger Management Treatments" with Dr. Raymond DiGiuseppe; "Cutting Edge Insights into The Brain Science of Anger," with Dr. Marc Milstein; and "Anger in the Political Climate" with Ebony Eubanks, MSW, ACSW, CAMS-II.
Conference attendees can take advantage of discounted group rates that NAMA has arranged with two downtown Washington, D.C. hotels: the JW Marriott and the Residence Inn Marriott Capitol Hill/Navy Yard. A limited number of rooms are available at conference rates, and early booking is recommended. More information on both the conference presentations and transportation and lodging can be found on the event's webpage at http://namass.org/2018-nama-international-conference.html.
About NAMA
The National Anger Management Association (NAMA) is the international professional association (represented in 21 countries) for the fields of anger management, crisis intervention and domestic violence. Membership levels (Member, Fellow, Diplomate) are open to any anger management, crisis intervention and domestic violence professional. Specialist certification for anger management (CAMS), crisis intervention (CCIS) and domestic violence (CDVS) is offered to individuals completing the NAMA authorized training programs.
Growth Central is a sponsor of this Conference.
Contact Information:
National Anger Management Association
Susie Roberts
864-316-9091
Contact via Email
namass.org
Read the full story here: https://www.pr.com/press-release/746639
Press Release Distributed by PR.com